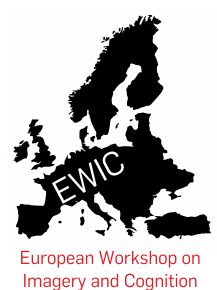 The European Workshop on Imagery and Cognition (EWIC) meets every two years. The first meeting took place in France in 1986.
EWIC provides a regular occasion for researchers interested in mental imagery and visuo-spatial cognition to present their work, exchange views, and develop research collaborations. While all the meetings held to date have been at European venues, they are open to the research community world-wide.
You can click on any of the EWIC events listed below (year, venue, main organizer) to obtain a brief description and see pictures of the corresponding EWIC.
1986: Orsay, France (Michel Denis)
1988: Padua, Italy (Cesare Cornoldi)
1990: Aberdeen, Scotland, UK (Robert H. Logie)
1992: La Laguna / Puerto de la Cruz, Tenerife, Spain (Manuel de Vega)
1994: Saarbrücken / Kirkel, Germany (Johannes Engelkamp and Hubert D. Zimmer)
1997: Oslo, Norway (Tore Helstrup)
1999: Windsor Great Park, England, UK (John T. E. Richardson)
2001: Saint-Malo, France (Michel Denis)
2003: Pavia, Italy (Tomaso Vecchi)
2005: St. Andrews, Scotland, UK (Gerry Quinn)
2007: Utrecht, The Netherlands (Albert Postma)
2010: Helsinki / Kirkkonummi, Finland (Virpi Kalakoski)
2012: Bochum, Germany (Boris Suchan)
2014: Paphos, Cyprus (Marios Avraamides)
2016: Paris, France (Valérie Gyselinck and Grégoire Borst)