(You can enlarge each photograph by clicking on it.)

It has been my great privilege to serve psychological science for 16 years as a member of the Executive Committee of the IUPsyS, including 4 years as President (2000-2004) and 4 years as Past President (2004-2008).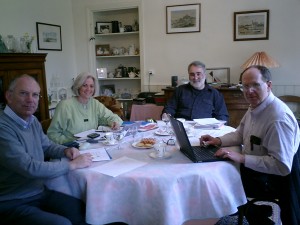 A meeting of the Union's Officers at « La Pensée », Dinard, during my presidential term (2003).
MD, Merry Bullock, Michel Sabourin, and Pierre Ritchie.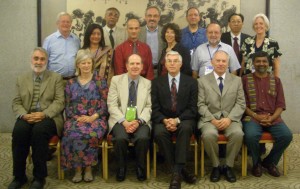 The members of the Executive Committee elected by the Union Assembly in Beijing (2004).
Click here to see the names of the people in the picture.
Meetings in Beijing
XXVIII International Congress of Psychology (2004)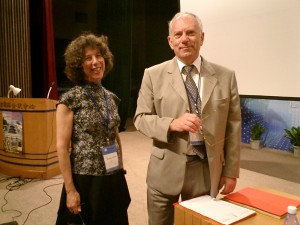 My very best greetings to Barbara Tversky, a great friend in life and science!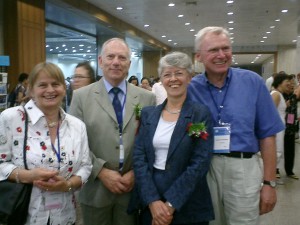 Thekla Hoffmann, MD, Maryvonne Carfantan, and Joachim Hoffmann.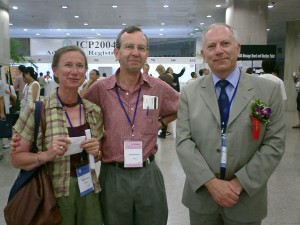 Psychology welcomes anthropology and artificial intelligence in Beijing:
Blandine Bril, Daniel Kayser, and MD.
Meetings in Berlin
XXIX International Congress of Psychology (2008)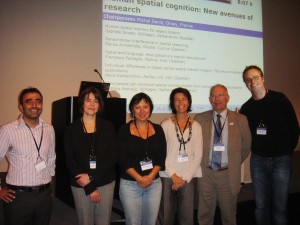 MD welcomes several rising stars in spatial cognition at the IUPsyS Invited Symposium
« Human Spatial Cognition: New Avenues of Research »: Marios Avraamides,
Gabriele Janzen, Maria Kozhevnikov, Francesca Pazzaglia, and Matthijs Noordzij.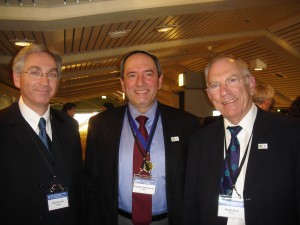 Peter Frensch, Juan Jose Sanchez Sosa, and MD.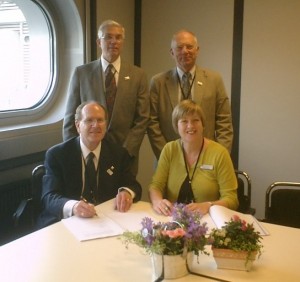 As IUPsyS Past President in charge of publications and as an individual researcher, I greatly
appreciated the high standards at Psychology Press and their commitment to international psychology.
Greetings to Rohays Perry, sitting here with Pierre Ritchie, Bruce Overmier, and MD!
You may click on the links below to access the other albums:
3. Encounters
4. Tenerife and the University of La Laguna
5. The French National Committee for Scientific Research (1991-2008)
6. The International Union of Psychological Science (IUPsyS) (1992-2008)
7. The International Council for Science (ICSU) (2002-2008)
8. The European Research Council (ERC) (2008-2013)